It's making commercial sense for healthcare professionals, ie doctors and surgeons to have a personal website marketing their services.
You may not know it, but people have a choice in what doctor they want to use, even if it is under the NHS. In England, most are used to just taking who is assigned to you, but you do have some choice. (Note that this was news to me). And in this brave new world of the internet people are going online to find their doctors and surgeons.
According to a study conducted by Yext on how people search for physicians, they found that 76.3% of patients search for individual doctors (or surgeons), while only 29.9% search for facilities.
People want a doctor that makes them feel like they are being taken care of and are in good hands. A doctor that cares about their individual needs…someone personable yet credible. And credibility matters. According to a web credibility study from Stanford, 75% of visitors make judgement calls on a company's credibility based on the website's design. And your design needs to make the right impression fast, as it takes a visitor only 50 milliseconds to form a first impression of your website.
Bottom line, if your website doesn't look credible, your visitors won't think you are credible.  And in the healthcare arena, nothing is more important than your credibility.
We have created websites and brands for two surgeons who are looking to bolster their online presence, and in making these websites we have come away with some solid tips for healthcare professional websites.
1. Answer Questions & Stop Healthcare Misinformation
In this digital age healthcare misinformation is on the rise. From the European Journal of Clinical Investigation:  Currently, there are nearly approximately 17 million articles in PubMed …1. Popular media also abound with medical stories and advice for patients. Unfortunately, much of this information is unreliable or of uncertain reliability. Most clinical trials results may be misleading or not useful for patients 2, 3. Most guidelines (which many clinicians rely on to guide treatment decisions) do not fully acknowledge the poor quality of the data on which they are based 4. Most medical stories in mass media do not meet criteria for accuracy 5, and many stories exaggerate benefit and minimise harms.
This is not something to be taken lightly. And this is an opportunity when you are creating a personal surgical or practice website, take the time to showcase your specialities and go into detail about them. This achieves a few things.  First, it answers your patients questions in a reliable manner – they haven't gone and gotten bad information from another website. Second, it shows that you are an expert in your field, thus bolstering your credibility. Third, as an added bonus, if you have answered your patients question they are much less likely to contact you via phone or email saving you and your staff valuable time.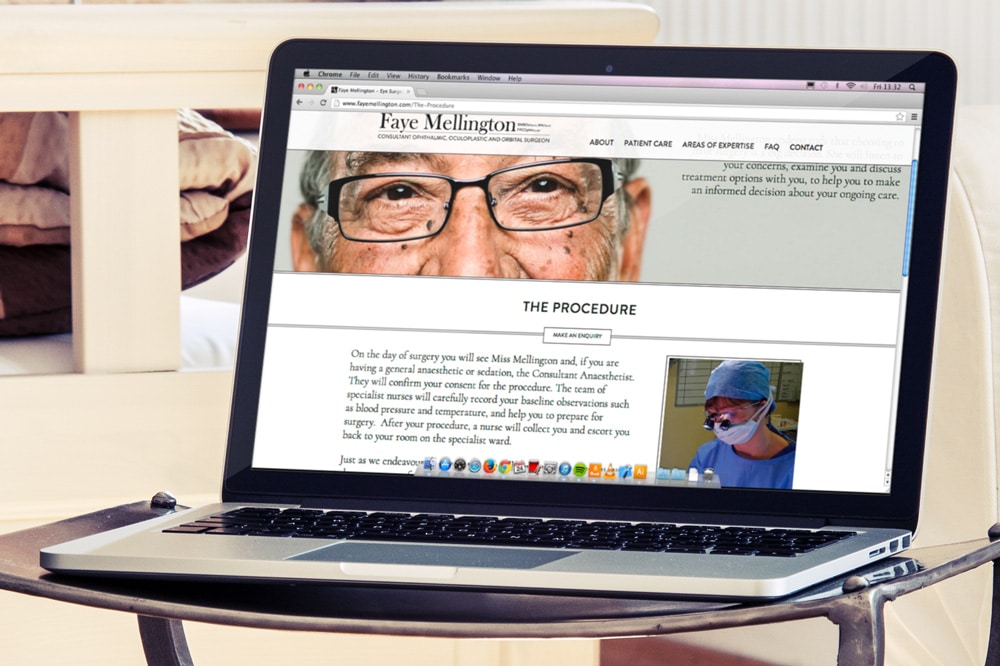 2. Show Personality
The reason you want personality is going back to the reason that people want a doctor that is personable and they can relate to. In the case of Dr. Faye Mellington (an eye surgeon we made a website for), she was incredibly knowledgeable about her profession, but also had a very welcoming demeanor. We felt it was essential to get that across on her website, so that when people visit it, they get a sense of who she is as a person and when they meet her, this translates. We got that across with smiling imagery, welcoming font choices and created the strapline 'happy eyes are healthy eyes'.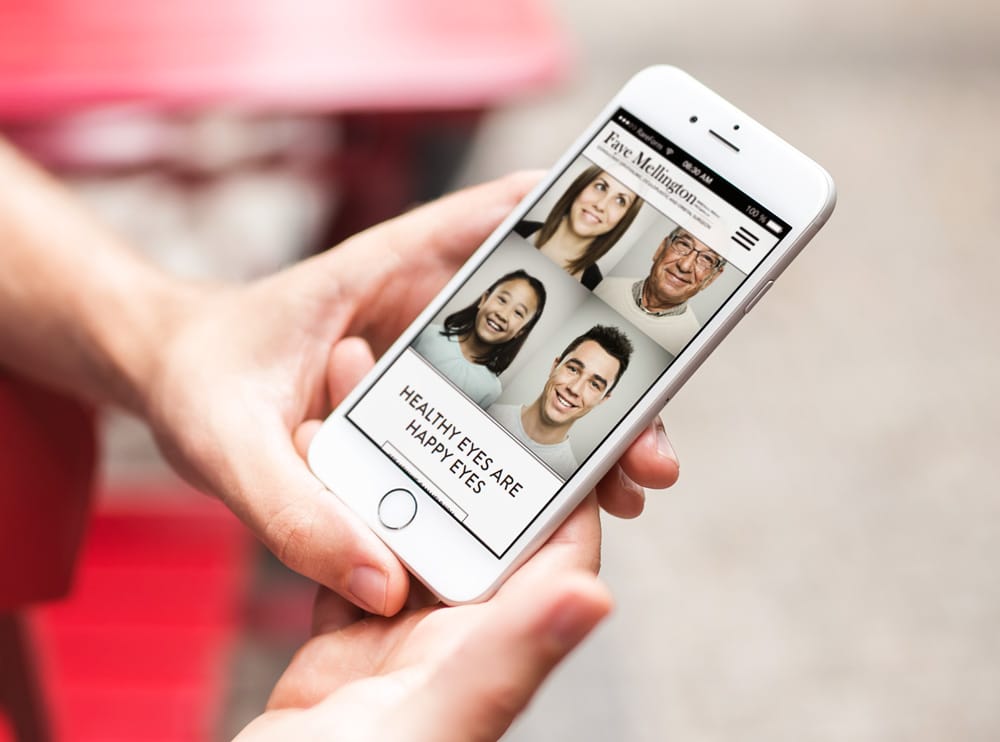 3. Showcase Your Specialities
If you are a doctor or a surgeon in a specific field you need to showcase what areas where you excel. If you have accolades or are regarded as the top in that specific field, even better. If you are listed in publications, list them. Do not shy away from talking about your achievements on your website. Make sure it is clear to anyone reading that you are in fact an expert in your field. This is not braggadocious, it is merely another way to show your visitors and potential patients why they should trust you as their doctor or surgeon.
A good example of this is on Dr. Mario Petrou's website. He is a cardiac surgeon who is one of the top authorities in the UK on Marfan Syndrome surgeries. And while Dr. Petrou is pretty much an expert in all things cardiac surgery, it is the Marfan Syndrome surgeries that has him standing out amongst his peers. Crafting the language on any website is an art, and making sure that the tone comes across correctly. And Dr. Petrou does this with a professional elegance. He talks about being 'an authority' in a way that comes across as trustworthy and credible without sounding ostentatious. He also has a specific page on the publications where he showcases his work in academic journals.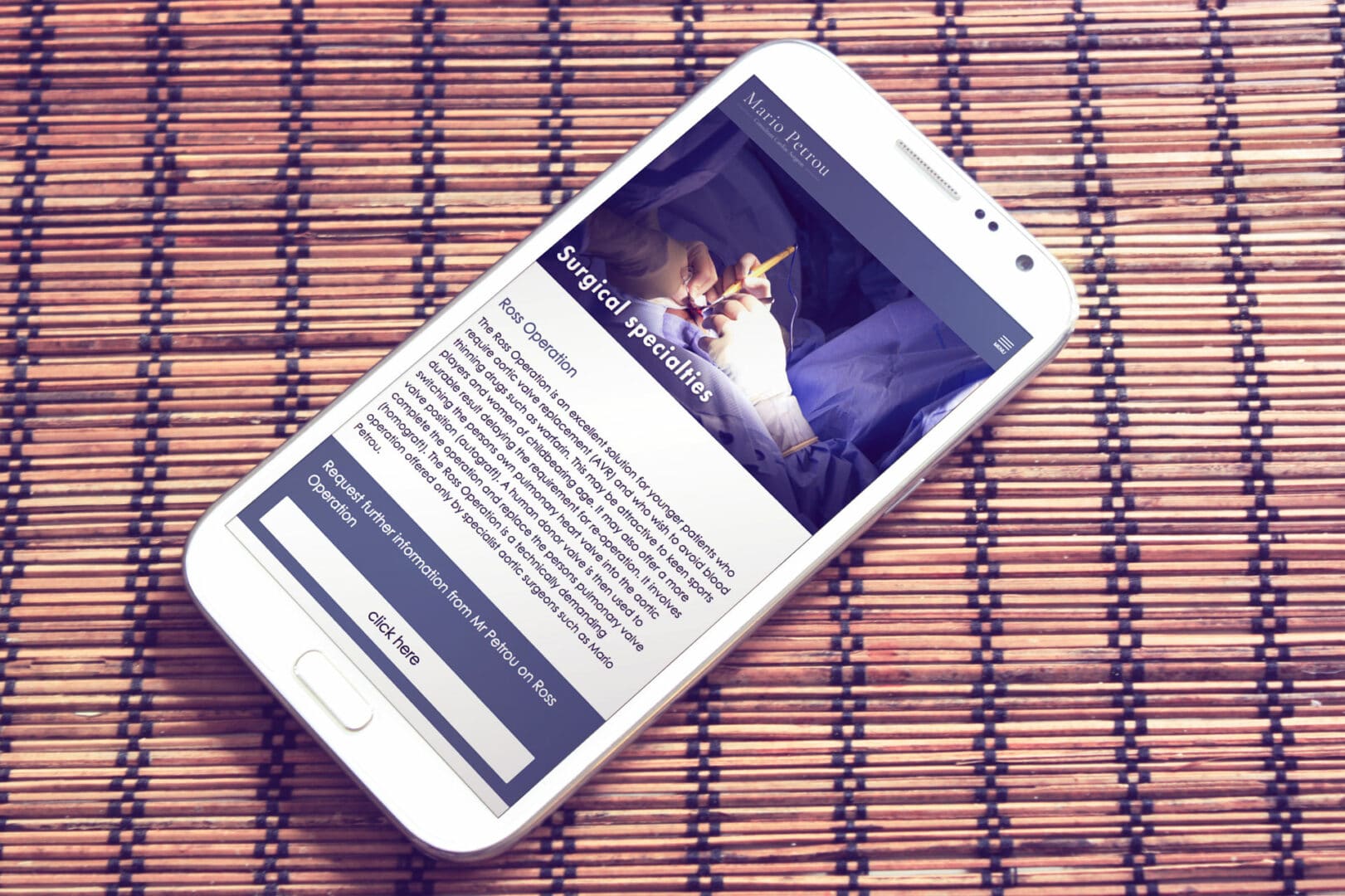 At the end of the day, everyone wants the best doctor or surgeon available. If you are a doctor/surgeon and creating a website for yourself make sure you put yourself in the best possible light, and you will reap the rewards that the internet has to offer.
Posted by: Jean Paldan
Apr 29, 2018