Google sent a survey that indicates that it is looking towards charging a monthly subscription  for Google My Business features.
We dig down into the GMB subscription models, the proposed features and what paying for GMB 'premium' means for your business.
For those not in the know, Google My Business (which used to be Google Maps, and before that Places) allows businesses to claim ownership and control their listing on Google's Map. This showcases your business working hours, owner (and client) added photos & videos, reviews, and other facts that may be useful for your customers. The red box showcases what is currently in your Google My Business listing.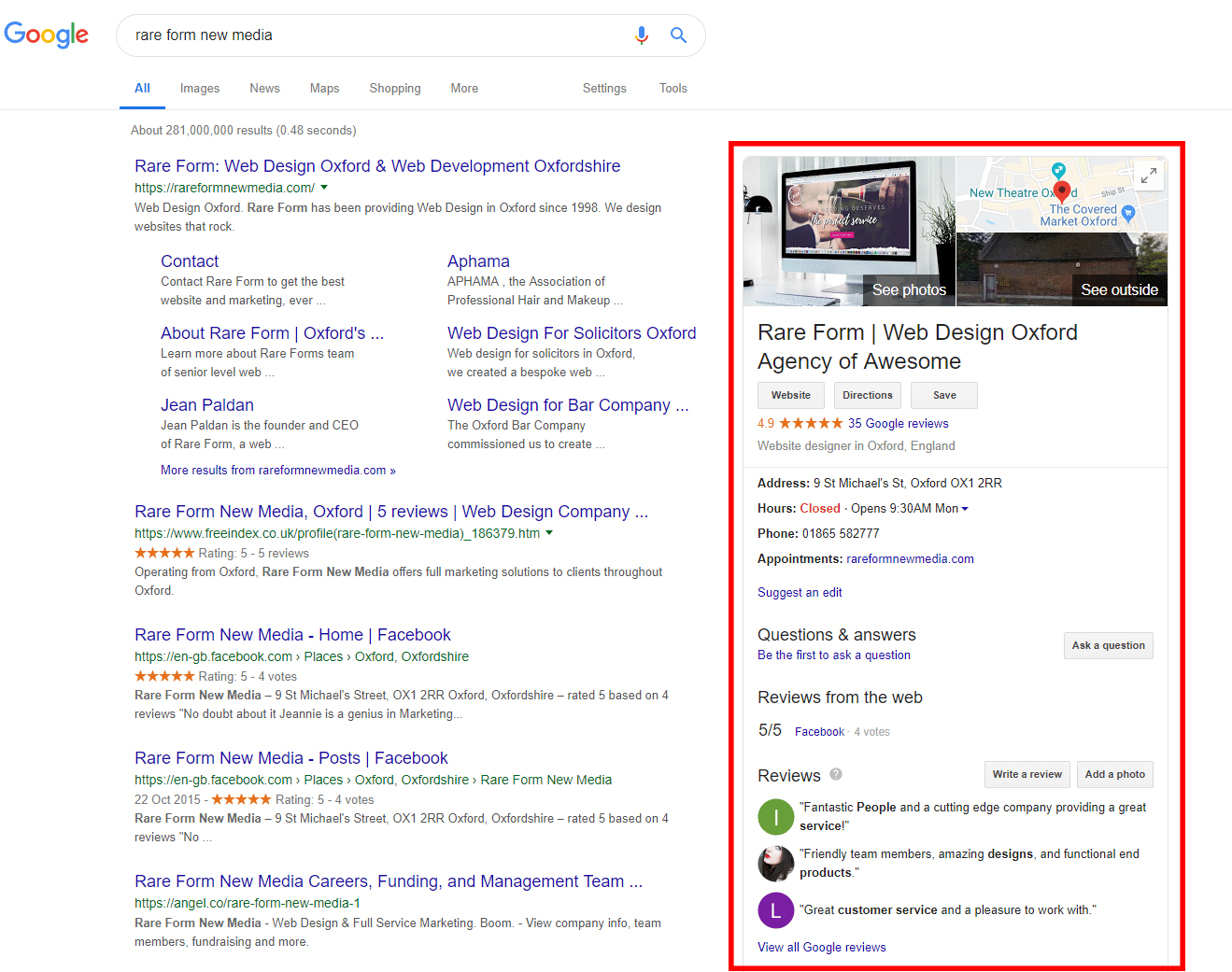 On mobile, they go a bit deeper and add 'highlights' such as women-led and highly rated (as seen on our screenshot of Rare Form below).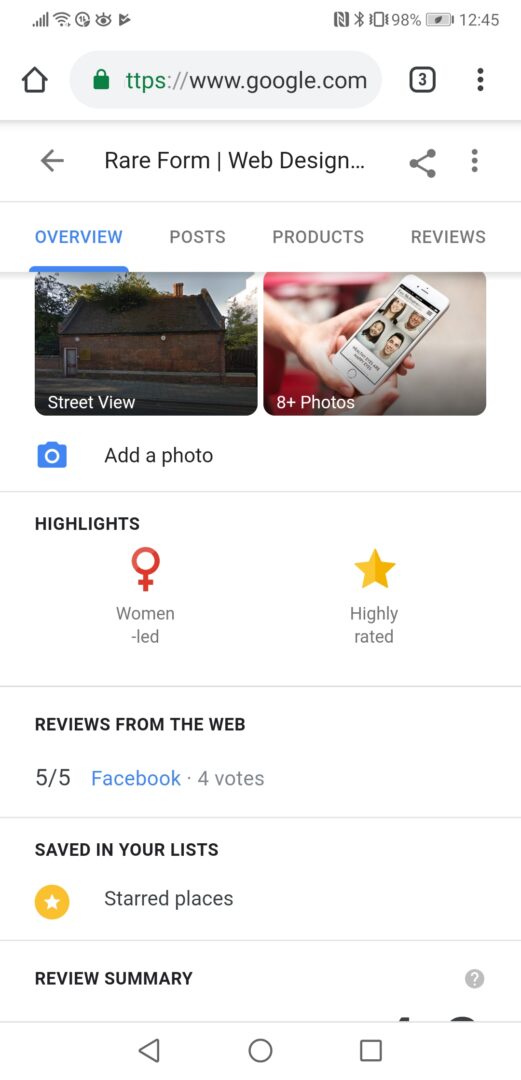 How does this impact your business?
If you are a large multinational this will have very little to no effect. However if you are a small business that serves customers in a specific location this has some potentially serious ramifications.  (Note that pricing on our survey ranged from $25 to $75 per month).
Full GMB Subscription Potential Features List From The Survey: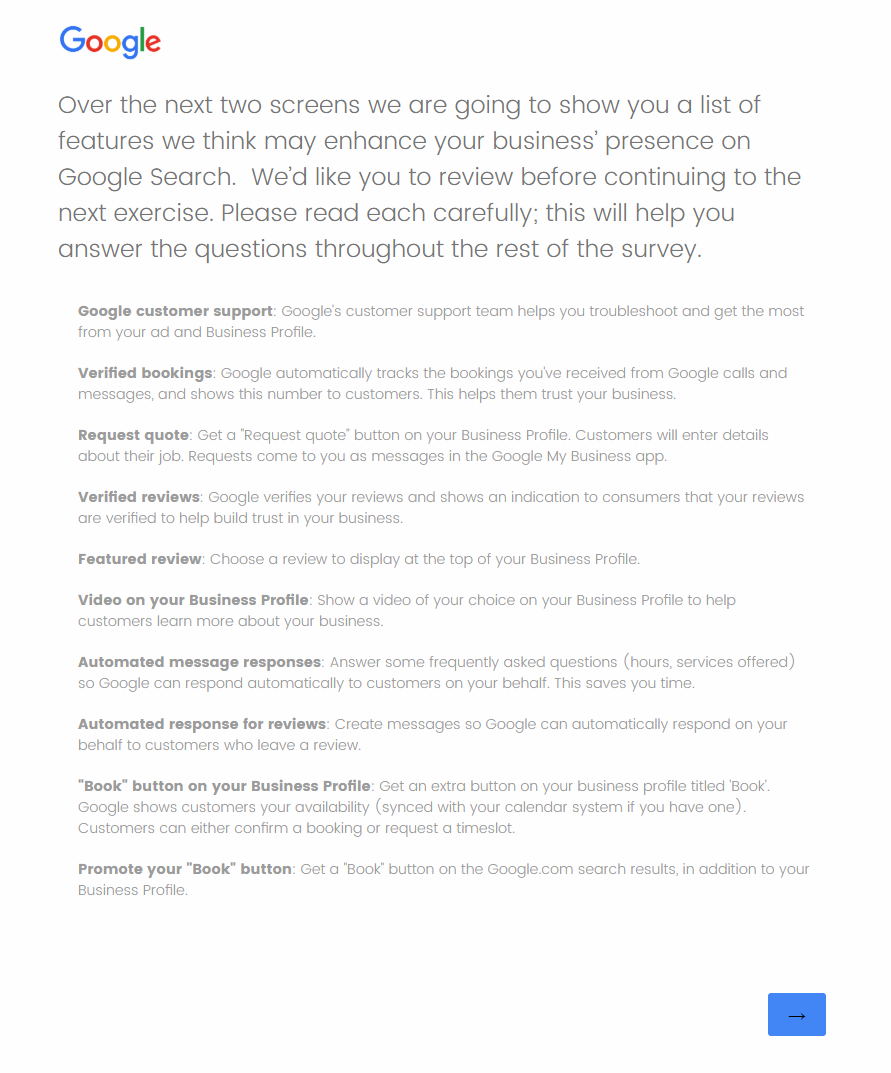 …and page 2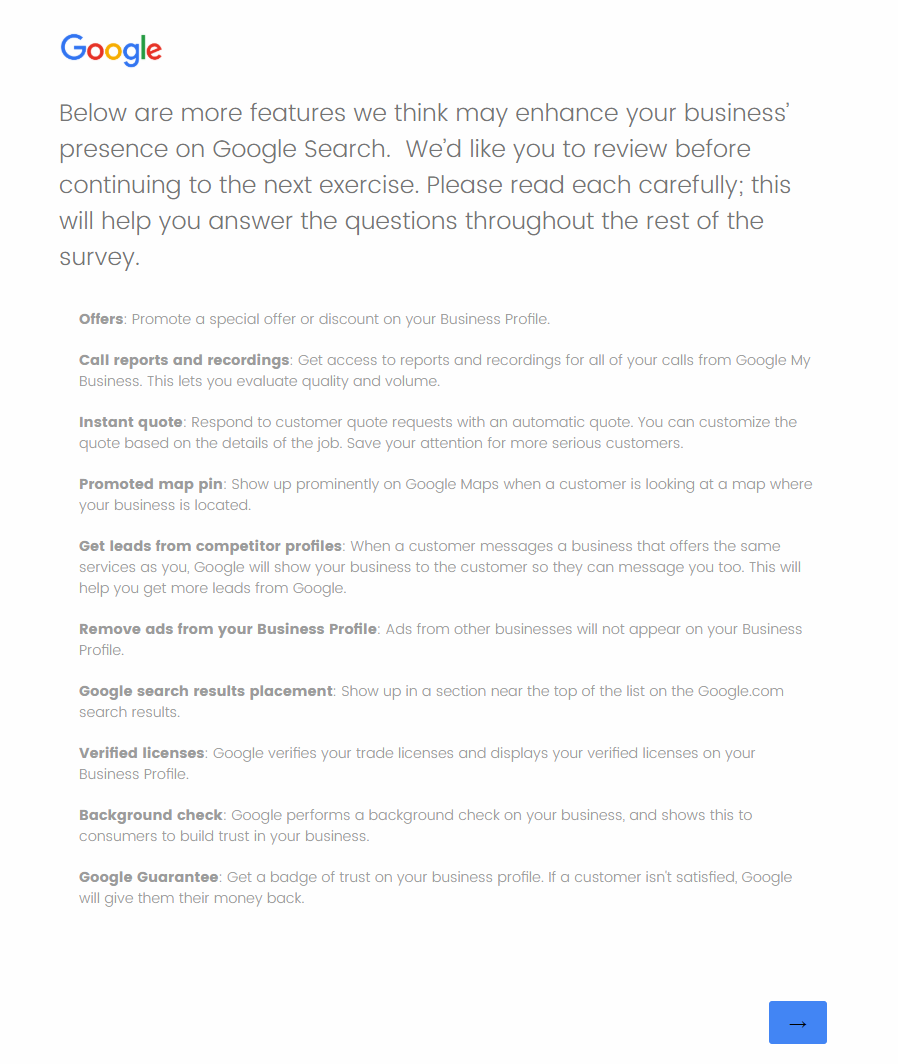 After the list of features, it then provided 11 pages of different packages and price combinations.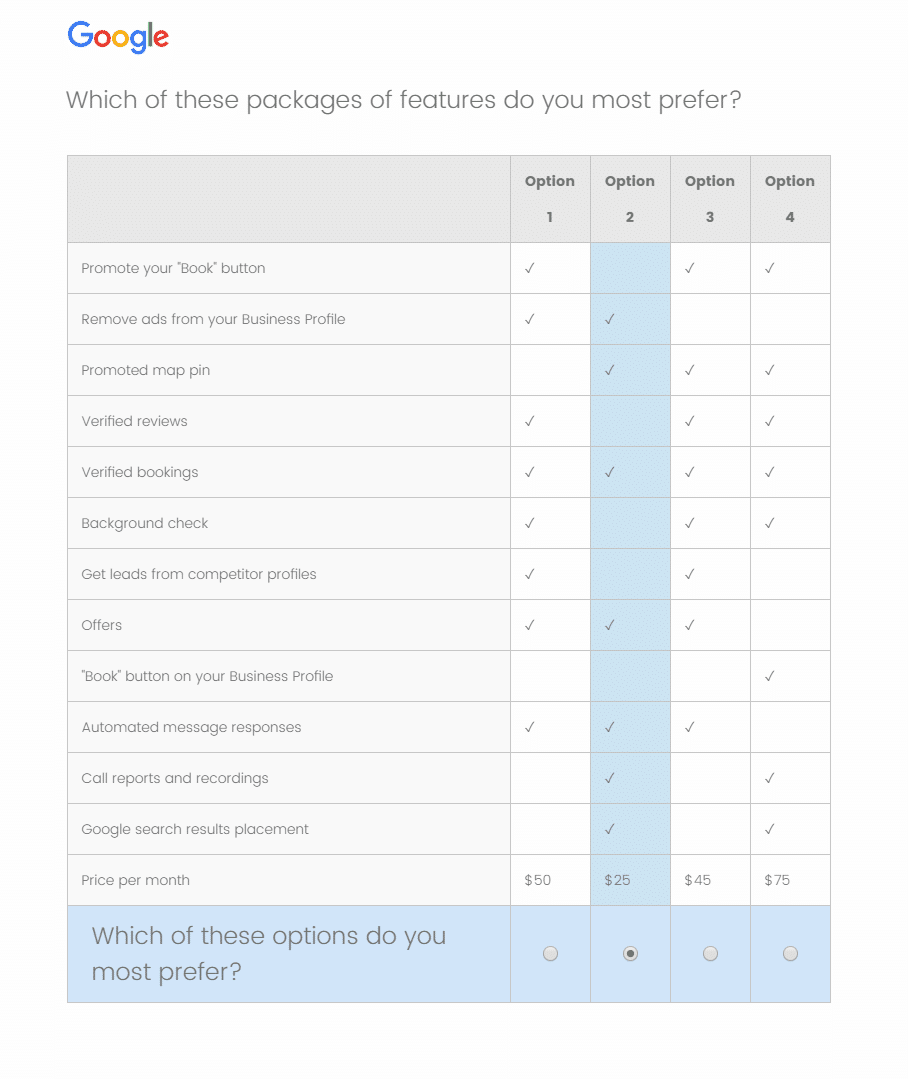 Digging down into the features and what it really means for your business.
1. Remove ads from your business profile.
This essentially means that Google will put your competitions adverts on your listing and if you want them removed, you have to pay the premium.
2. Book button on your business profile.
"Get an extra button on your business profile titled 'Book'. Google shows customers your availability (synced with your calendar system if you have one). Customers can either confirm a booking or request a timeslot."  
Normal GMB already have had the 'appointment' button for some time. This can integrate with existing booking systems, and Google even has an entire page devoted to its reservation booking partners.  I don't think Google is going to shoot itself in the foot and cut out the middle man. But could they? Of course. And that means the downfall of a lot of booking providers.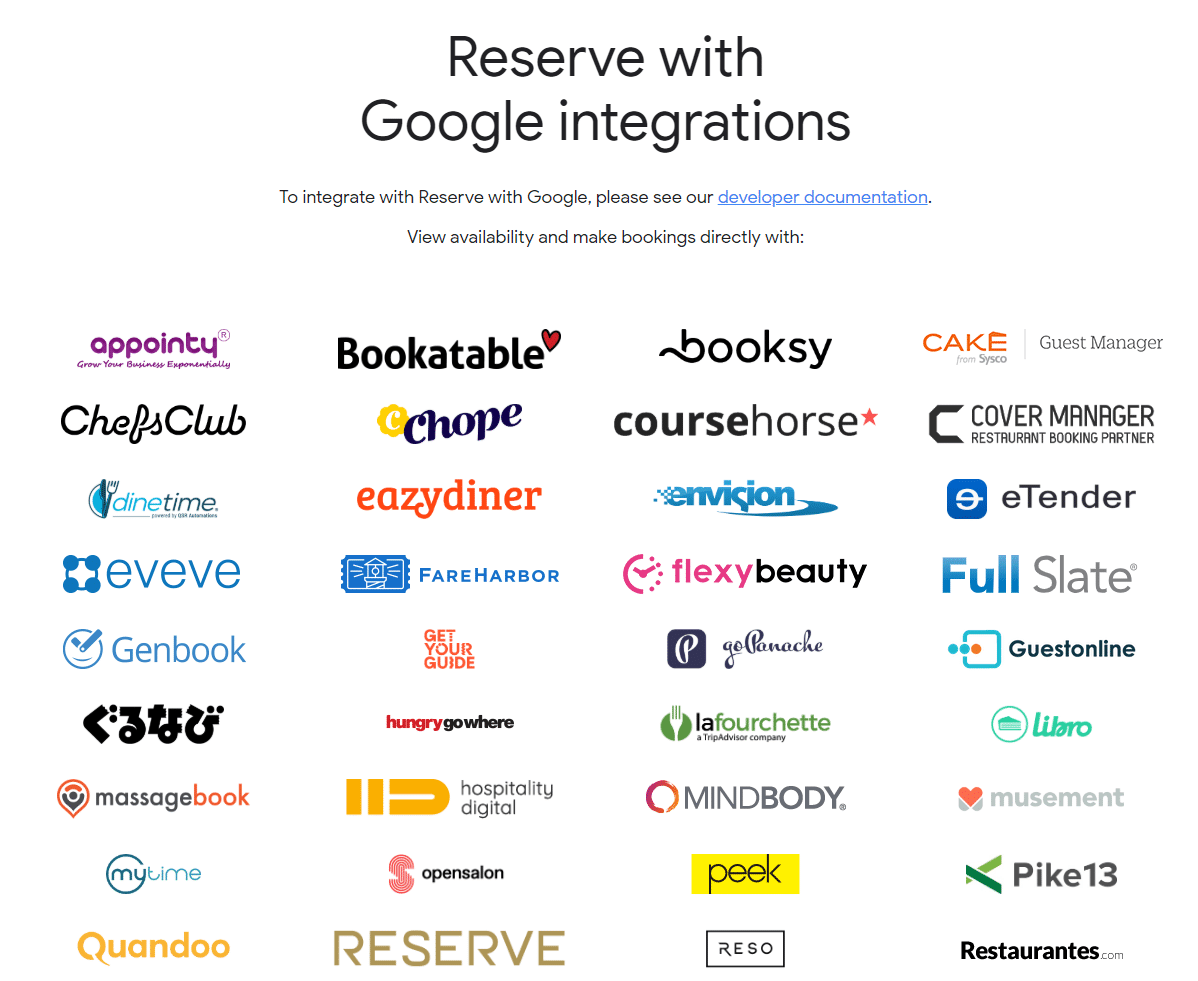 3. Offers.
"Promote a special offer or discount on your Business Profile."  
Again, this already exists on GMB. You can post short articles, services and offers. Here is one that we posted in February. That being said, if it is a subscription service it might gain prominence in Google's listings, or above others. It is all speculation at this point as to what Google might make this something that businesses would pay for.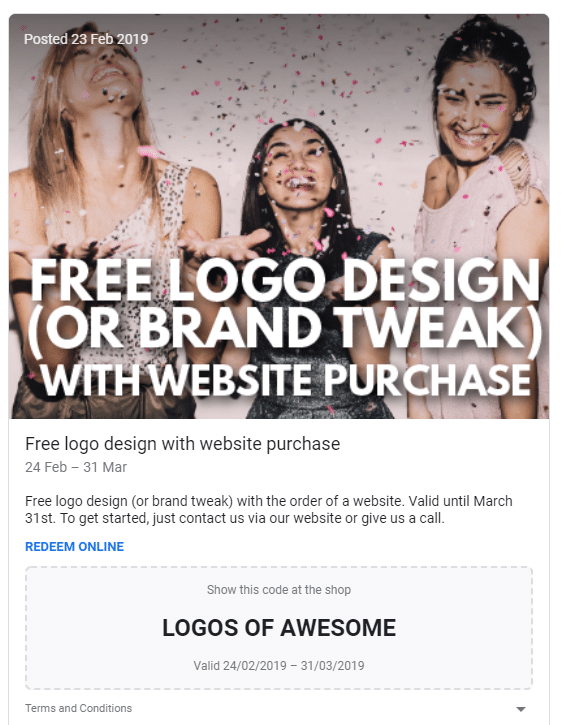 4. Recordings & call reports.
"Get access to reports and recordings for all your calls from Google My Business. This lets you evaluate quality and volume."
Larger organisations have this in place, and I could see this being a large benefit to smaller companies that want to more effectively track their marketing. Having this tied into your analytics, and search console (Google's reporting tools for webmasters) this feels like a positive thing, and probably the best part of the potential subscription model so far.
5. Automated message responses.
"Create messages so Google can automatically respond on your behalf to customers who leave a review."
While this seems nice in practice, I don't see this being better than what is already on offer. An automated response is impersonal. Currently, you can reply directly to your reviews, which I feel is a better way to go.
If they took this a step further and followed Facebook's model of auto-responses, it would be handy to have a customer message a business and to have AI automated responses on hand.  Taken even further, to connect you directly to the customer in real-time without having to go to your website for a chat function.
6. Placement in Google search results.
"Show up in a section near the top of the list on the Google.com search results."
Google Ads has been doing this for quite some time. But if this were implemented, it means companies will pay to be at the top of Google, instead of having to rank through natural means (quality and relevant content, properly designed website, etc). This would essentially kill many small Search Engine Optmisation and Digital Marketing companies who would no longer be able to compete with the Google Gods.
This is probably the most troubling on the list, as it essentially changes Google's relevance in the search market. While it is known for providing quality results, it would no longer do so, as the person with the biggest pocketbook would then be served.
7. Show up when your competition gets an inquiry.
"When a customer messages a business that offers the same services as you, Google will show your business to the customer so they can message you too. This will help you get more leads from Google."
The second most concerning was the above. While it sounds good to me to show up on my competition when they are getting a message…that also means that they will show up when I am being sent a message.  This is a no-win for anyone if it is implemented unless you are the only business that is paying for the subscription…but you won't be.
8.  Google verified reviews & business background checks.  
"Google verifies your trade licenses and displays your verified licenses on your Business Profile."
"Google performs a background check on your business, and shows this to customers to build trust in your business."
What is the purpose? Google is looking to instil confidence in your company. While I can see a benefit for being verified by trade associations and have those on your profile, most of these organisations require a yearly membership. For small businesses it's already an outlay, to have them proudly displayed on your GMB and having to pay again to use the logos feels a bit of a slap in the face to the small business.
Getting 'Google Background Verified' could be good or bad. It depends on how they implement, and if this has any effect on your natural ranking on Google.
As mentioned before, the survey itself went 11 pages deep just on the subscription offerings/pricing options alone. From a business perspective, if GMB 'premium' comes to the table with the useful features from the list at a price that small businesses can afford, it could be a real asset, especially paired with analytics and their reporting offerings. If it offers the aggressive features that show your business to your competitors at a high price point, businesses will revolt, and that may be just the tipping point that Bing has been waiting for to make a comeback.
Posted by: Jean Paldan
Apr 27, 2019